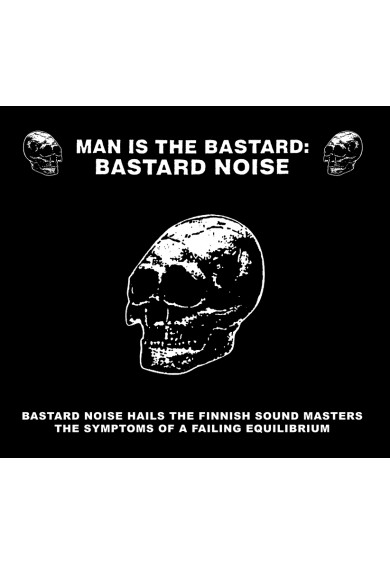 Early Man Is The Bastard / Bastard Noise was well known for his passion and support of Finnish noise. Before anyone acknowledged the new era of the Finnish noise scene emerging in the 90's, MITB/Bastard Noise support for the artists was crucial to introduce the names to global audience. Early MITB split ep's included Aunt Mary (1992), Unseen Noise Death (1992), Bizarre Uproar (1993) and he continued later to collaborate with more people.
One of remarkable releases of BN & Finnish noise art combinations, was 1999 CD album: Bastard Noise Hails The Finnish Sound Masters / The Symptoms Of A Failing Equilibrium. Still in 2021, this over two decades old album sounds fresh and interesting. High pitched doomdays electronic machines of Bastard Noise are combined with raw sounds submitted by Bizarre Uproar, Woundead, Order., Junkdrome, Grunt, Skin-Graft and All-Out. Every artists submits different type of material to work with, yet it sounds like proper album rather than fragmented compilation.
Repress of the album has 100% same sound. No remaster. No editing.
Reissue published as digipak CD, using the original cover designs.