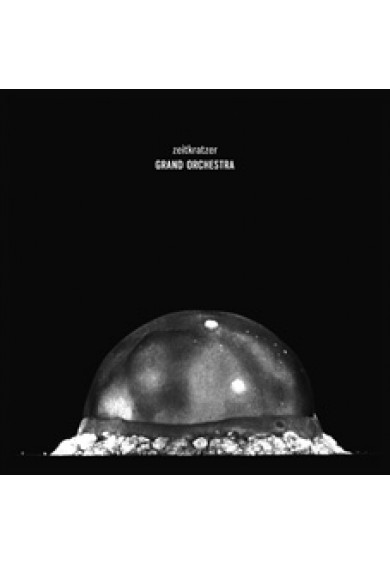 Grand Orchestra, for mixed orchestra and bagpipes. Composed and directed by Reinhold Friedl. Performed by zeitkratzer & guest at Haus der Kulturen der Welt, Berlin, August 21, 2011.

The score for Grand Orchestra has been developed for musicians, laymen, old people, children, adolescents, for anyone who likes to join in. Grand Orchestra is not for education. It's not about explaining, intellectual understanding or the training of cultural values; rather it's about having faith in the abilities and intuition of the players and their performance. The musicians of zeitkratzer and additional guests took over the voice-leading of the instrumental groups, distributed in the space and enabling their amplification. In this way it was possible to create not only pure intensity but also dense and complex sound aggregates, through the blurring of playing techniques inside the different instrumental groups. Which orchestra is capable of playing such complex sounds as this group of forty wind players, chorally building a simultaneous crescendo of breaths? Who can play more ecstatically and wilder than a group of sixty musicians, playing against and doing their best to keep up with a Scottish bagpipe ensemble? It's precisely due to unclearly played single sounds, unfolding from an orchestra dominated by amateurs. Unique sounds with a complex character that no professional orchestra could reproduce. (Reinhold Friedl, from the liner notes)

zeitkratzer is sound made visible, tangible, bodily & a truly unforgettable corporal experience of live music. The physicality of sound is celebrated through extended instrumental techniques, mutual understanding and amplification of traditional instruments. A midpoint between instrumental and electronic music turns out to be more bizarre and surprising than either of these. zeitkratzer, founded in 1999, gathers nine musicians, light and sound engineers living in different European cities from Amsterdam to London to Oslo meeting for working phases in Berlin. They have performed critically acclaimed versions of classical music by composers such as Karlheinz Stockhausen, Helmut Lachenmann and James Tenney, as well as orchestral versions of electronic/noise music by Whitehouse, Merzbow, John Duncan, Dror Feiler and Lou Reed's 'Metal Machine Music'.