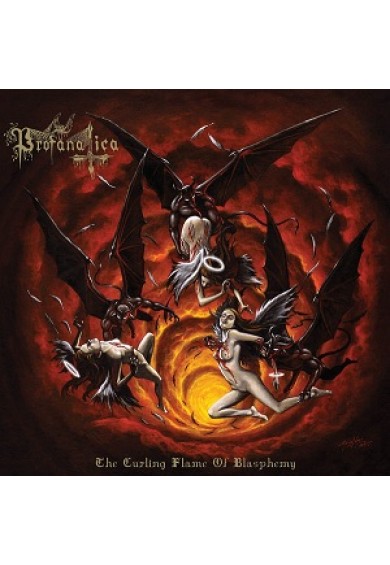 2016 album of Profanatica

Forever the iconoclasts, PROFANATICA are both black metal legends and defiant of such concepts of "legendary." As one of earliest American black metal bands, during the dark 'n' bloody days of the early 1990s, PROFANATICA set out upon a course of utter blasphemy and barbaric primitivism, then retreated into the shadows as a cult icon, only to be resurrected years later once the black metal scene had finally caught up with their invention/degradation. When they returned, with Profanatitas de Domonatia in 2007, the signature PROFANATICA sound was firmly in place, and yet masters Paul Ledney and John Gelso continued to challenge themselves and push this pulsing primitivism to uncharted waters of sin 'n' sickness. Three years later, Disgusting Blasphemies Against God pushed the envelope even further, and yet three more years again, 2013's Thy Kingdom Cum climaxed all over that envelope. Now, with The Curling Flame of Blasphemy, PROFANATICA have gone back to the beginning while re-imagining their signature sound in the subtlest and yet somehow-most-powerful way.

Arguably the band's crudest and most primitive full-length thus far, The Curling Flame of Blasphemy bulldozes into being with a crushing, blown-out explosion of sound, setting out PROFANATICA's stall and drawing a very firm line in the sand: you either submit to its gloriously hypnotic blasphemy or get trampled under cloven, obsidian hoof. Paul Ledney's idiosyncratic approach to rudimentary/elevated-mind drumming forms the backbone by which John Gelso sends out wave upon wave of tense, vertigo-inducing riff, layering the bulldoze with chilling counterpoint that sends the vertigo into overdrive and creates a perverse disconnect from the sonic wreckage going on all around them. All the while, Ledney's charred-black vomits cut through the crush to spill forth verbal desecration, profaning the pure and defiling dog's creation as only he can. Together, both masterminds behind PROFANATICA underline an already incontrovertible fact: despite a decade or two of the black metal scene pilfering from them, no one sounds like PROFANATICA. Thus, The Curling Flame of Blasphemy never dies, never relents - from a flicker into an inferno - and both its heat and light shall serve as a guide for future generations of devotees/descecrators.