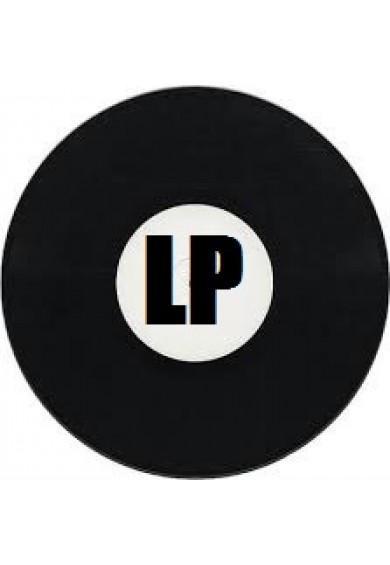 Die Nummer 3 der S.I.-Serie kommt von der Brüsseler Performance-Gruppe NOISE-MAKER'S FIFES! Verschiedene Aufnahmen der Choreographie "Dyonisos' Last Day" und Feldaufnahmen afrikanischer Insekten dienten als Basis für zwei komplexe Geräuschsoundscapes. Höre mit neuen Ohren, mit anderen Hirnzellen als bisher !
"NOISE-MAKER'S FIFES is an experimental performance group from Brussels who do impressive shows with many selfbuild instruments and surrealistic sound-theatre-choreographies. The first side on "Zona Incerta" is based on the choreography "Dyonisos' Last Day" from 2003 and uses various live-material from this and other different performances. The second side is created from insects field recordings made in Kenya. ZONA INCERTA builds a very dimension of its own, totally hazy and foggy sounds ebb and flow in and out...water and metal-sounds are recognizable in the sound-field, high insect-frequencies intertwine with all kinds of strange noises and animal sounds... The Unknown is also the world of other creatures who perceive a totally different world. Listen with new ears, with different neurons." [press release]
RELEASE DATE: 28. APRIL 2006 !!
GENERAL LABEL CONEPT: "Substantia Innominata" is the brand new release-series from Drone Records. We are proud to present this as a 10" VINYL series along with subsequent re-releases on CD. This new series doesn't focus on a special concept or ideology regarding the music, but on a certain theme. The theme for this 10" series is based on "The Un-known, The Un-nameable, The Un-speakable, The Un-thinkable, etc.: Various aspects related to "The Unknown". Basically the grey matter (psychic or physical, which are bound to result the same) surrounding us / within us, but can't be understood or recognized through the normal senses (though some may perceive it on a subconscious level). We could name it "The Unconscious". The chosen name for this series, "Substantia Innominata", was inspired to the fact that this Latin name represents a certain region of the brain which has unknown functions and remains a mystery for its role and existence. Therefore this name reflects well the intense fascination for this impalpable concept of "the unknown".
The invited artists for this series were asked to work around this theme, to let themselves be inspired by its abstraction. The artwork for this series will be created by the various visual & graphic artists. All in full-colour or silkscreen covers. The 10" vinyl pressings will come in an edition of 500 copies for each title.
"...now the Belgian collective has developed a totally unique style where the successions of electroacoustic events are organized according to a logic which fuses a highly skilled compositional ability and the exploration of psychic dimensions where anguish and fear dominate." [Massimo Richi / Touching Extremes]
"Ähnlich einer Kette von Plunderphonictrickserei und schamanistischem Tranceinschlag bereiten NMF auf der 10" sorgfältig zwei Stücke naturalem Ambientes und Feldaufnahme vor dem Hörer aus. Beide Seiten beginnen relativ leise und zögernd, ehe eine Mischung aus synthetischer Grundbetonung und relativ uneffektierter Klangmaterie auf dem Stereofeld erscheint.
Die A-Seite geht dabei stärker in die dunklere Seite des Releases ein, vereinigen sich hier Synthesizerspuren und dekonstruierte Feldaufnahmen zu einer Klangmasse, die den Hörer unerwartet einlullt und dabei ein Gefühl erzeugt, den einzig wahren State Of Trance zu erreichen. Der Klang wirkt weder schwer noch betont Räucherstäbchenambiente-betont, sondern wirkt wie eine intelligente Schnittmenge aus Felddokumentation und improvisatorischer Klangkaskade. Die ganzseitige B-Seite (tatsächlich finden sich auf der 10" zwei lange Stücke) erzeugt ein ähnliches Szenario, allerdings tritt die vormals vornehm zurückgehaltene Effektierung der Klänge stärker zutage. Ab der Plattenmitte entstehen seltsam mantrische Muster, dem Klang einer Orgel nicht unähnlich, ergänzt um zahllose weitere Elemente, die sich aus Feldaufnahme, Drones und leicht angezerrten Obertönen zusammensetzen.
Eine sehr schöne Platte, die ohne den nötigen Pomp einer überschminkten Musikerwartung daherkommt. Neben der RLW von Substantia Innominata mein derzeit favorisiertes Release." [Thorsten Soltau / AEMAG]