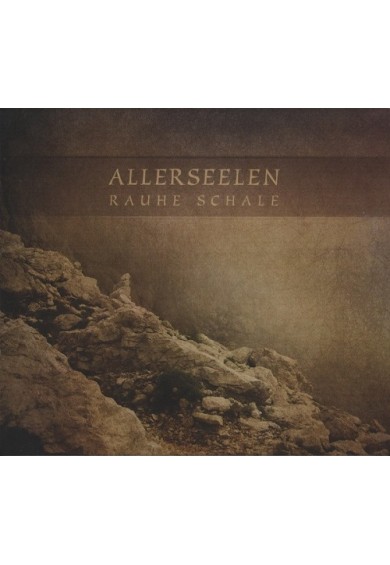 The Austrian group Allerseelen is, two years after their successful cd release Hallstatt, back with a brand-new album that fascinates musically as well as optically: Rauhe Schale (Rough Shell) is the title of the opus that was released some days ago. Already the first sight into the beautiful booklete of the digipack production on Ahnstern shows that this cd differs in various parts from its precursors: Allerseelen, live having been for a long time with various members performing in many cities in North America, Europe and Russia, has been nevertheless in the studio almost a solo-project by its founder Gerhard Hallstatt, assisted from time to time by various guest musicians. This has changed now, now Allerseelen is also in the studio a real group with electronics, bass, electric guitar and drums. On several pieces there are also contributions by two well-known violinists from the world of neo-folk and folk metal. Apart from Dimo Dimov who not only drums but also plays electric guitar on some songs and the bassist Marcel P., Allerseelen this time also features the two violinists Meri Tadic - from the Swiss folk metal band Eluveitie - and Annabel Lee, the violinist of the American formation Blood Axis who also released some weeks ago a new cd.

Still it is not easy to describe the style of Allerseelen - everything moves and flows in a field of force between industrial, metal, folklore and pop. Lovers of bands like Nine Inch Nails, Einstürzende Neubauten, Laibach or Underworld could also fall in love with Allerseelen. On Rauhe Schale there are various songs with a powerful metal atmosphere with electronic, industrial recordings - some minutes later one may discover again a song that sounds more like dark pop. Gerhard Hallstatt sometimes describes his music as Electronic Folklore or Apocalyptic Rock. But basically there is no real description for Allerseelen - all attempts to find an expression for their music may be valid for some time, yet lose their meaning after a couple of months or years.

The cd Rauhe Schale sounds like its title - the music is rough, tough, hard like already the last album Hallstatt that received enthusiastic feedback due to its fascinating combination of electronic beats and strings and some compositions reminding in some way of Black Metal.